A toddler and his grandfather find plenty of things to see on a sunny day in this new book released by Dog Ear Publishing.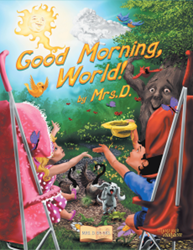 Thomas loves Everything he sees, but his grandfather Finds fault with everything in this charming new illustrated children's book.
Galloway, NJ (PRWEB) October 28, 2013
Few things are better on a beautiful sunlit day than a walk in the park. When young Thomas and his grandfather go out for a walk, they see the same things but from different perspectives. Thomas loves everything he sees, but his grandfather finds fault with everything in this charming new illustrated children's book.
"
Good Morning, World!
" explores the wonders of nature and its colorful characters like the golden sun, pretty flowers, and birds squabbling. Thomas is delighted when ladybugs spiral up into the air, but his grandfather is worried about being bitten. Thomas loves seeing the jumping frogs and lizards sweet, but his grandfather thinks the park is dangerous. By the end of their walk, Thomas is delighted with all the happy things he saw while his grandfather is delighted to be able to finally take a nap. Dynamic drawings by Eladziem provide a powerful counterpoint to the whimsical story.
Author Olga D'Agostino, aka Mrs. D, immigrated to the United States from western Ukraine in 1992 with her two small daughters. D'Agostino, who speaks many languages, has written other illustrated children's books, Including "Carlo The Mouse, Book 1: Too Many Rules for One Little Mouse," "Carlo The Mouse on Vacation," "The Trees Have Hearts," and "The City and the Old Kittens Cat House." "The Trees Have Hearts" earned a 2013 Mom's Choice Award. She is working on several new children's books, including more adventures starring Carlo The Mouse, and "Runaway Clothes," "The Mysterious Life Inside a Closet," "Everyone Needs Someone: The Royal Palm," "Who Is Most Important in the Fridge "and" That Is How Things Are. "She lives in Smithville, NJ, with her husband, and has a grandson to whom she has dedicated this book.
Good Morning, World!
Mrs. D
Dog Ear Publishing
ISBN: 978-1-4575-2154-6 46 pages $ 19.99 U.S.
Available at Ingram, Amazon.com, Barnes & Noble and fine bookstores everywhere.
About Dog Ear Publishing, LLC
Dog Ear Publishing offers completely customized self-publishing services for independent authors. We provide cost-effective, fast, and highly profitable services to publish and distribute independently published books. Our book publishing and distribution services reach worldwide. Dog Ear authors retain all rights and complete creative control throughout the entire self-publishing process. Self-publishing services are available globally at
http://www.dogearpublishing.net
and from our offices in Indianapolis.
Dog Ear Publishing - self-publishing That actually makes sense.